New Year's Eve 2021 will look a lot different than last year's celebration. Instead of heading out for a night on the town, many of us will be settling in for an evening on the couch. And in lieu of ringing in 2021 with dozens of friends, guest lists will be limited to the people who live in our households. But just because your 2021 holiday is different doesn't mean it can't be just as festive, celebratory, and meaningful as years past! With the right amount of planning, you can throw an incredible New Year's Eve bash right at home.
This year, holidays are even more important than ever. The past few months have been a challenging time for many of us, and New Year's Eve is the perfect day to reflect and reset. Seriously, what better time is there to look back on all you've accomplished and overcome than the last day of the year? Before the clock strikes 12, grab a favorite bottle of bubbly and get ready to celebrate with these festive quarantine New Year's Eve ideas. From setting a creative New Year's resolution to planning an incredible New Year's Eve brunch, you're bound to find a few celebratory ideas you love!
Make a New Year's brunch
Brunch is the best meal — and so you'll want to include it in your plans for the last day of the year. A festive dish, like these strawberry cheesecake pancakes, will do the trick in a pinch. Oh, and you'll definitely want to pour a mimosa (it's never too early for champagne on New Year's Eve!).
Strawberry Cheesecake Pancakes Recipe:
Ingredients:
3/4 c. low-sugar strawberry preserves
8 oz. strawberries, hulled and halved
2 c. all-purpose flour
2 tsp. baking powder
1/8 tsp. salt
2 1/2 c. lowfat buttermilk
2 large eggs
1 tbsp. granulated sugar
1 tsp. vanilla extract
1/2 tsp. finely grated lemon zest
6 oz. cream cheese, softened
3 tbsp. butter Confectioners' sugar for garnish
Directions
In medium bowl, microwave preserves on high 1 minute or until melted. Stir in strawberries; set aside. In large bowl, whisk flour, baking powder and salt.
In another large bowl, with mixer on low speed, beat buttermilk, eggs, granulated sugar, vanilla and zest until combined. With hands, add cream cheese in chunks. Beat until cream cheese is well distributed but still slightly lumpy. Add buttermilk mixture to bowl with dry ingredients. Stir gently until just combined (small lumps are OK).
In 12-inch nonstick skillet, melt 1 tablespoon butter on medium. When pan is hot and foam from butter subsides, add batter by heaping quarter-cupfuls. Cook 2 to 3 minutes or until bubbles begin to appear and edges are set. Turn and cook another 2 minutes or until bottom is golden brown. If desired, transfer cooked pancakes to baking sheet in 225°F oven to keep warm. Cook remaining batter in batches, adding more butter as needed. Serve pancakes topped with strawberry mixture and dusting of confectioners' sugar.
Decorate for 2021
It wouldn't be New Year's Eve without a glittery decoration or two. Add a festive touch to your home with these over-the-top 2021 balloons. Bonus: They're the perfect photo backdrop if you decide to take pics (and you absolutely should!).
Make a scrapbook
There's no denying it: 2020 was a year to remember. Commemorate the past 12 months by putting together a scrapbook or photo album. It's a great way to get creative and look back on all the incredible memories you made.
Get Dressed Up
Just because you're staying home doesn't mean you have to wear your PJs (although if you want to, you should!). Throw on your favorite holiday dress and some bold New Year's Eve makeup. Who cares if the only one who sees it is the cat?
Take some pics
Everyone loves a good photo booth. Buy some Insta-worthy props and set them up in front of a DIY backdrop. To make one quickly, tape silver or gold wrapping paper to the wall — preferably one in front of a window for some pretty natural light.   
Write down your resolutions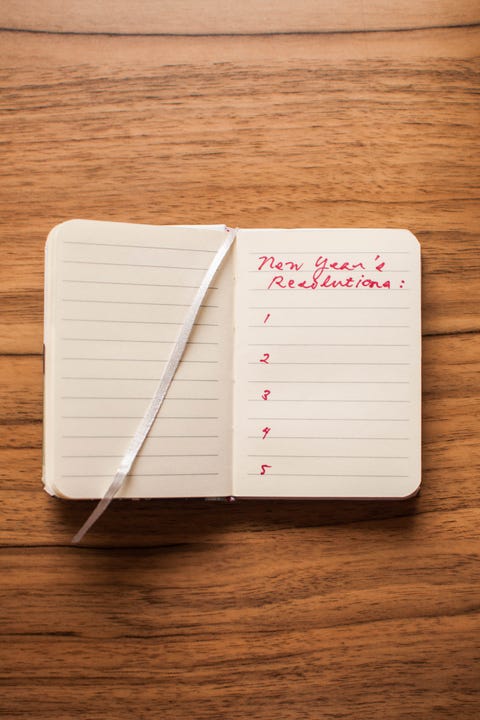 Since you're staying home this year, you'll have extra time to work on your New Year's resolutions. Try to cover a range of baskets — things like career, health, finances, and self care — and get ready to have your best year yet.
Play a game
The best thing about parties are the games — so make sure you've got a few on deck for New Year's Eve. You can find a ton of games like Scattegories, Bingo, and Family Feud on Etsy. If you're calling into a party on video chat, there are also plenty of games to play on Zoom. 
Mix some cocktails!
New Year's Eve is all about the bubbly, but that doesn't mean you can't kick your glass up a notch by mixing a fabulous champagne cocktail. This cherry bomb fizz requires just a dash of maraschino liqueur and a cherry garnish.
Make a memory Jar
Here's a fun idea for New Year's Eve: Decorate a "Memory Jar" to keep over the next 12 months. Every time something incredible happens, write about it on a piece of paper and put it in the jar. You can even include momentos like ticket stubs and cards. On New Year's Eve 2022, you can open the jar and take a walk down memory lane.
Make a festive dinner
The best way to ring in a new year is with a delicious dinner. Instead of going out to a local spot, whip up something at home. You can never go wrong with a roast chicken and some tasty side dishes.
Watch a movie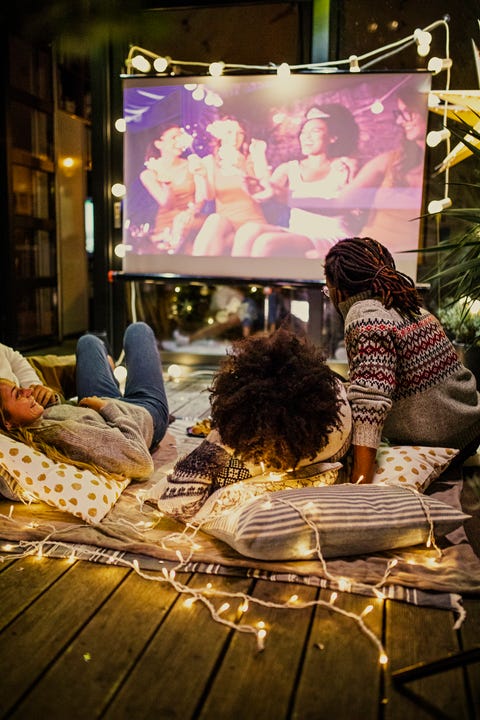 Sure, the New Year's Eve movie genre isn't as established as the Christmas one, but there are a few classics you can always turn to. Light a few candles and settle in with some snacks and champagne for a cozy holiday you'll always remember.
Bake a delicious dessert
After a year like 2020, we all deserve a treat. Pick out a few dessert recipes you want to try and start baking on the morning of the 31st. That way, you'll have delicious snacks to enjoy all day and night —because the best thing to do after the ball drops is eat a cookie.
Make a toast
Pop a bottle of champagne and raise a glass to all the incredible experiences you'll have in the New Year. Bonus points if you serve it up in a statement glass! 
Make some noise
As soon as the clock strikes 12, you'll want to get loud. And the best way to do that — aside from banging on those pots and pans — is with a few trusty noisemakers. These gold foil ones will look cute in all your NYE selfies too. 
Watch the ball drop
To encourage social distancing, the Times Square ball drop will go virtual this year. Fortunately, the event will still features performers and speakers, just like it has in years past. "The world desperately needs to come together symbolically and virtually to celebrate the
people and things we love and to look forward with a sense of renewal and new beginnings," Tim Tompkins, president of the Times Square Alliance, said in a press release about the event.